Each summer, Hearts for Hearing (HFH) hosts a day camp in Oklahoma City, and more recently in Tulsa as well, for school-aged children with hearing loss entering kindergarten through middle school. The camp offers an opportunity for children to build friendships with other children who have hearing loss and provides enrichment for listening and spoken language skills. Many Hearts for Hearing graduates return to camp as volunteers, and lasting friendships are often built through the camp experience. Our summer camp is led by our team of Listening and Spoken Language Specialists and speech-language pathologists with support from our pediatric audiologist team. The camp is also supported by volunteers who are pursuing careers in speech-language pathology or audiology. The campers are divided into smaller groups for activities including museum tours, hands-on art creations, scavenger hunts, performances, and tours/experiences at unique locations across our state. The day closes with a review of key art, literacy, and language concepts learned during the day so that the campers can share their experiences during conversation with their families each night.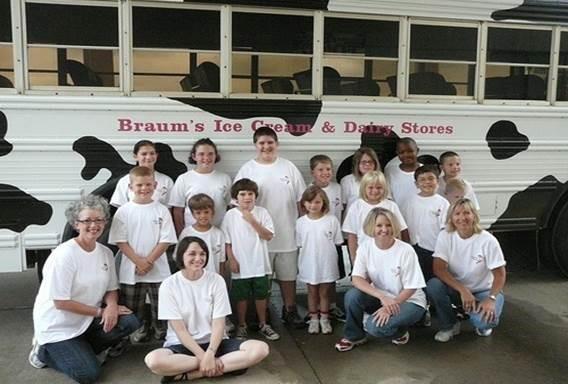 Our very first summer camp was in 1999 with 6 campers. Since then our camp has grown to almost 70 participants and 36 volunteers, and in 2019, we held our very first summer camp in Tulsa. The HFH team observed during the early years of summer camp that most of the children who attended had not previously encountered many of the community and cultural activities that were offered, including children who had grown up in or near Oklahoma City or Tulsa. Our growing numbers led us to transition from our original location at Our Lord's Community Church to the Oklahoma City Museum of Art, and ultimately to varying locations within our community. The seven years hosted by the OKCMOA were a turning point for our camp, and we are so grateful for the many years we were able to collaborate with their team while on-site. From numerous art projects, exhibit tours, hands-on tours, and performances, the Oklahoma City Museum of Art has provided exposure to the art community and continues to do so every year.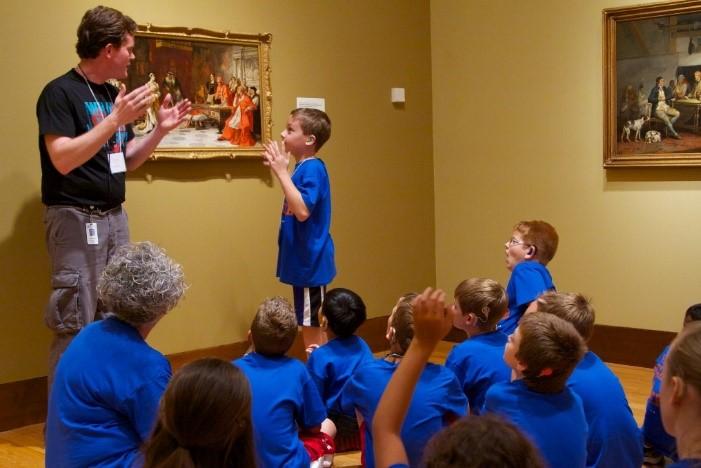 In addition to the Oklahoma City Museum of Art, Hearts for Hearing has developed long-standing partnerships with Lyric Theatre and the Oklahoma City Thunder. Over the past 7 years of our partnership with Lyric, our children have been able to explore the art of performance, costume and make-up, and stage and set design. Additionally, the Thunder have embraced our children by visiting with the Rolling Thunder Book Bus, hosting dance camps with the Thunder Girls, and even a surprise drop in by Rumble! We look forward to our continued partnerships for years to come.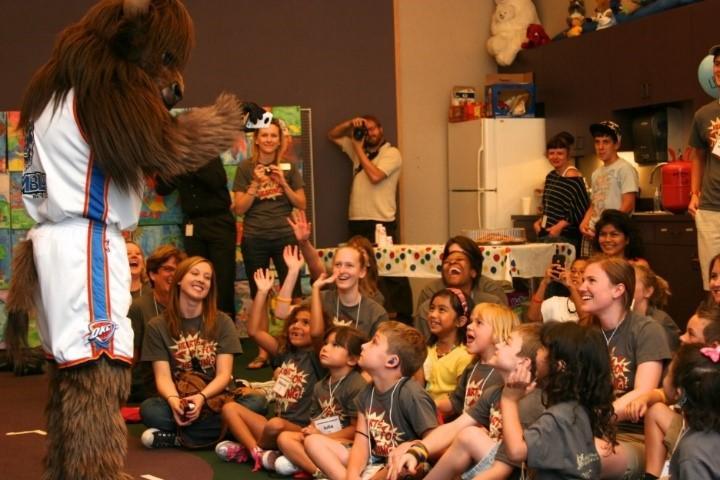 Our camp gained traction with the addition of our resident artist, Donna Ware, a retired art and music educator, and the many photographers including Randy Fisher, Jordan Mobley, and Chandler Coale who have captured our memories in pictures. Many of the art pieces created with Donna are in the halls of our Oklahoma City clinic.
Over the past 21 years, our campers have explored Midtown, Downtown OKC, Downtown Tulsa, The Plaza, The Civic Center, The National Cowboy and Western Heritage Museum, The Oklahoma City National Memorial and Museum, Science Museum Oklahoma, Gaylord-Pickens Museum, Oklahoma Territorial Museum, Territorial Capital Sports Museum, Woody Guthrie Center, 108 Contemporary, Oklahoma City Zoo and Botanical Garden, Myriad Botanical Gardens, OU Fine Arts, Oklahoma National Stockyards, City Center U.S. Post Office, City Hall, Ronald J Norick Downtown Library, Tulsa Symphony, Maya Trading Company, Braum's Dairy Farm, Cuppies and Joe, Kam's Kookery, Packard's, Wind Drift Orchards, Blue Sage Studios, Art Fusion, Urban Art, webdesign.com, Schlegel Bicycles, Dust Bowl, Orthodontic Arts, Commonplace Books, Chirps and Cheers, OK Shirt Company, Plenty Mercantile, Plaza Walls, Folk Life, Photo Art, Russell Stover Candies, Winans Chocolate, Sasquatch, Roxy's Ice Cream Social, and Capitals.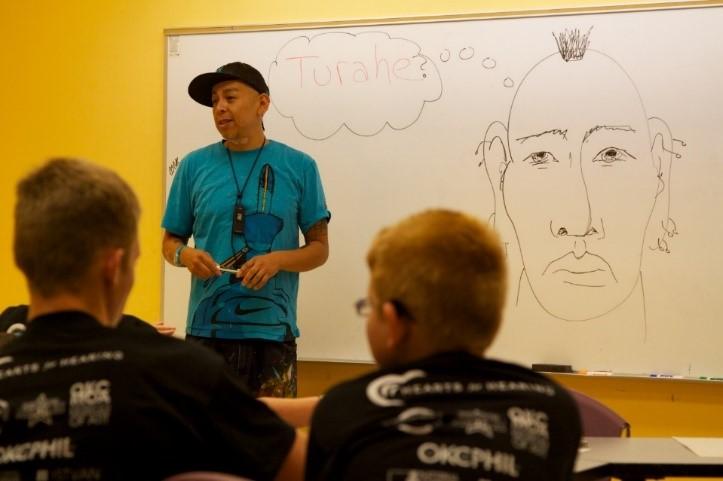 We have also had the privilege to work with artists such as Greg Burns, Denise Duong, and Bunky Echohawk in addition to special storytellers, singers, performers, and visitors like Rex Barrett, Al Bostick, Oklahoma Children's Theatre, Lyric Interactive, Ballet Folklorico, Life Change Ballroom Dancers, Insect Adventure, OKC Energy, Holy Yoga, musicians Monty Harper, Patrick Redbird, Jami Smith, Spaghetti Eddy, Sugar Free All-Stars, Tulsa Opera and the Oklahoma City Philharmonic and Orchestra League, "The Hairy Potters" Betty and Ben Ingham, ice sculptor Ken Burkemper, photographer Mat Miller, comedian Rod Wolfard, and non-profiteers such as Bella Foundation, Curbside Chronicles, Infant Crisis Services, and Oklahoma Regional Food Bank.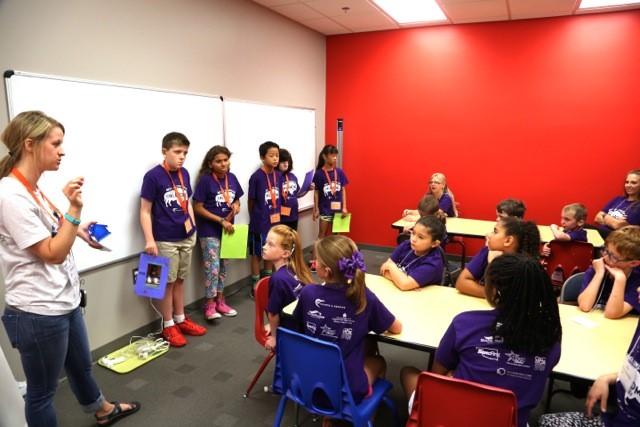 In 2013, we added "The Crew," a new and unique subgroup of camp designed to expand the leadership qualities of our children 10 years and older. Though The Crew still participates in some of the same activities as the younger campers, much of their time is spent working on a special project which allows them to continue to grow their abilities as contributing members of society and to mentor younger children with hearing loss.
HFH summer camp has become a time of year that many of our parents and patients excitedly anticipate. For some kids, this is the one camp of the year where they can interact with other kids who also wear hearing technology. "Our son Bobby looks forward to Hearts for Hearing's camp every year and he prioritizes it above any other summer camps! It has provided him with an opportunity to explore and learn more about the exciting things happening in Oklahoma City alongside other children who are also growing up with hearing loss. He also enjoys spending time with the staff who provide our children with the resources and tools to thrive!" – James and Jamie Matlock.
Sadly, our 2020 summer camp was canceled due to the recent events with COVID-19. "It's hard to summarize summer camp with words. As we're approaching what would have been our 21st year of summer camp, we have been reminiscing about the number of places we've visited, the people we've met along the way, the number community partners we have befriended, and ultimately the number of children impacted by this program. Many of these children travel miles to attend our camp each year and are fortunate to be able to spend the time with other children with hearing loss in addition to all of the wonderful experiences they encounter along the way. Our staff and families look forward to this week each year and we certainly are feeling a void this year. We hope the posts and pictures shared on our social media this week will resurface these memories for your child. We'll be back with an even more extraordinary experience for our campers next year and it will give us all something to look forward to together!" – Lindsay Hanna, Summer Camp Co-Director
Even though summer camp has been canceled until next year, we still celebrate the many wonderful experiences that our campers have had the opportunity to experience over the years. Summer camp remains an integral part of what we do at Hearts for Hearing as it supports the very core of our mission and strengthens the foundation of each child's listening and spoken language success.